Demonic Cross Beast System Cell Tower at Holy Apostolic Church Of God Pentecostal 21938 Thunderbird Road Apple Valley California 92307
Summary
From 2008-2016 when on vacation I used to stay at the Apple Valley Motel at Kiowa Road and US Highway 18. It was one of the best places to stay EMF-exposure-wise that I had found in the state of California. My acreage in the San Gabriel Mountains was just an hour away, so that was a doable drive for hiking. And there, locally, I had a nice two-hour walking route that I would follow on days alternating with my marathon 5-6 hour hikes in the mountains. The walking route passed by a church that was about two miles away by foot, or 1.5 miles as a bird flies. Actually, the church wasn't there when I first visited the area in 2008. Nearby schools, including Granite Hills High School, all had minimal EMF exposure. When my car windows were being professionally tinted in 2015 in nearby Victorville I learned from the office manager that parents complained of the lack of cellular coverage in this area. For me this was a God-send, but as you would expect with people's priorities being technology and "connectivity" before health, it was short-lived. The high school was blanketed with increased EMF in 2014 or so; and in 2016 a cellular tower was constructed at the church along my walk. I was aghast as over a period of two weeks during the summer of 2016 I watched the construction of the tower. I saw the utility trenches with electricity and communications cabling brought in from the street. I knew that it was just a matter of weeks or months before the tower would be operational. I knew that these were likely my final days of being able to enjoy this quiet, under-developed semi-rural area.
There are homes just 200 yards to the west of the church. It is the epitome of being a bad neighbor to subject the people around you to this DNA and mind destroying electromagnetic field 24 hours per day. There was a cute girl at one of the residences who would smile to me sometimes. I feel sorry for her and her family now. How much is it worth to compromise people's health? I guess for the Holy Apostolic Church Of God Pentecostal at 21938 Thunderbird Road in Apple Valley, California 92307, selling your brother out costs just $500 or $1000 per month (or whatever the contract provides for). The field this tower generates is strong. I can no longer walk in this area. I no longer stay at that overpriced dive of a motel anymore, either.
Electrical Sensitivity - Personal Symptoms And Reflections - December 24, 2017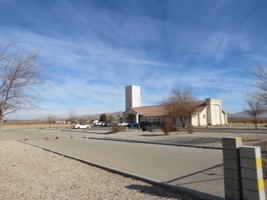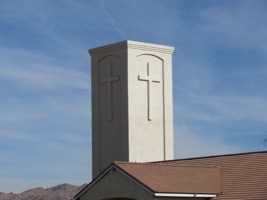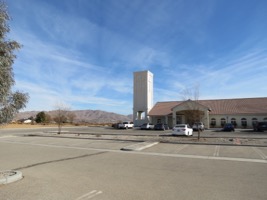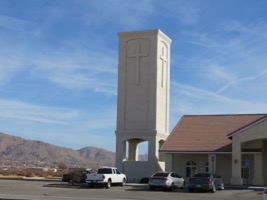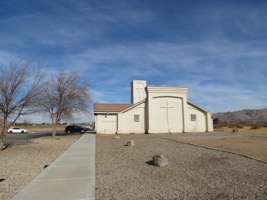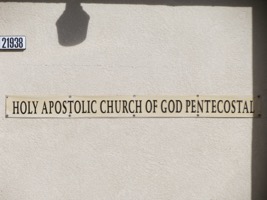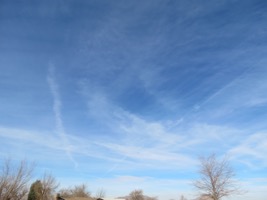 Pics taken 12/24/2017 of Apple Valley's Holy Apostolic Church that now leases space on its property for a cellular tower disguised as a cross. This is the epitome of hypocrisy as wireless radiation is literally the demonic "breath" that gives life to the 5G "Internet of Things" taxation-and-transaction control grid Beast System. The church -- instead of the Gospel of their Savior, Jesus Christ -- now pumps out an enslaving blanket of wireless radiation. Note the heavy metal aerosols high in the sky above. Driving through the area I could not help but observe nanoparticles raining down as deleterious chaffe, obscuring visibility in every direction I looked. When religion has been coopted by Satan, where can you turn for spiritual guidance?
Criminal Aerosol Spray Operations - AKA "Chemtrails"
Electrical Sensitivity, Human Health, And Environmental Illness
Electrical Sensitivity - Personal Symptoms And Reflections
Healthful Diet And Lifestyle, Environmental Toxins, And Multiple Chemical Sensitivities
Heart Chakra Opening - Signs And Symptoms
Kundalini Awakening - Spiritual Signs And Symptoms
Kundalini Awakening - Spiritual Signs And Symptoms - Additional Posts
Kundalini Awakening - Spiritual Signs And Symptoms - EMF Complications - More
Kundalini, Orgasm, Masturbation And The Spiritual Function Of Sexual Fluids
Mother Shakti Goddess Transmission Observations
Sexual Deviancy And Its Relation To Fear, Control, Power, Vitality, Innocence, Youth, and Death
This page was first uploaded on 12-25-2017, last modified on 12-25-2017.
All contents and design by Kundalini & Cell Towers © 2017