Ventana Wilderness Photos/Pictures/Photographs 2006-2008
Presents photos of the Ventana Wilderness. Currently, most of these shots are of the Arroyo Seco River, Arroyo Seco Gorge, and Arroyo Seco Trail, 15 miles west of Greenfield in the Salinas Valley of Monterey County, California. However, looking at the Forest Service's map to this wilderness, there are dozens of other access points and campgrounds along the 150 mile plus circumference of this choice natural area. At some later date I may add some pictures taken at these other locations. On the ocean side of the Santa Lucia Range (Arroyo Seco is on the Salinas Valley side, which is drier) the landscape and foliage may look different as it has adapted to the heavier precipitation. An example of this would be the Julia Pfeiffer State Park along Highway 1, full of giant redwood trees, due west about 12 miles (and over a 4,000 foot-plus mountain range) from the Arroyo Seco Campground.
The Ventana Wilderness is just one small part of the Los Padres National Forest that spans much of California's central coast.
Photos/Pictures/Photographs - 2006-2008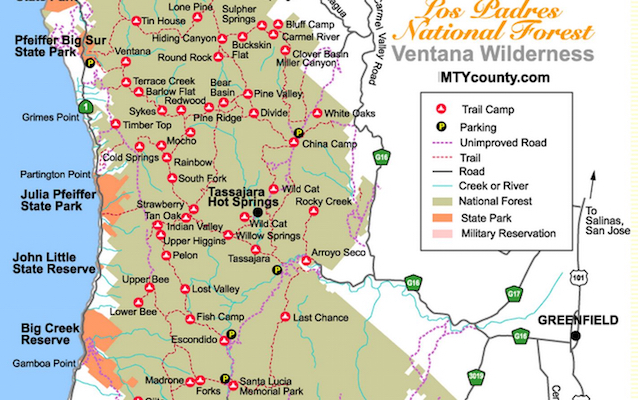 Ventana Wilderness Map. For two years I lived near the Arroyo Seco Campground. I would hike there nearly daily, using the lavendar marked unimproved Arroyo Seco - Indians Road.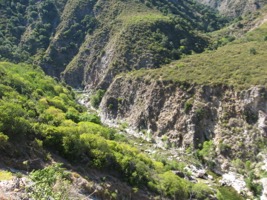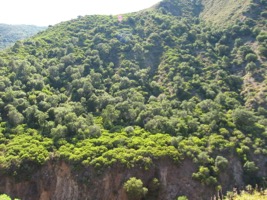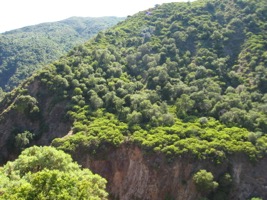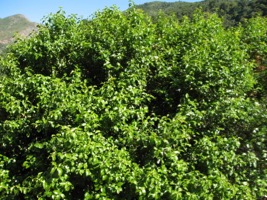 Some greenery and shots of the gorge cut by the Arroyo Seco River as it flows through the Ventana Wilderness alongside Indians Road, July 2, 2006.
In 2006 this area had no cellular service, and I always felt vitalized after a good long hike here. I notice now that I look back at these shots ten years later that aluminum aerosols were being sprayed over the area, although I was oblivious to it at the time. When I moved out of the Greenfield/Ventana Wilderness area in 2008 there is a chance that cellular service was expanded to include some of this region, as there was an ongoing major fire just a few miles from where I was living, and the emergency crews were no doubt pushing for this communications technology. I had some bad headaches and other symptoms at the time, but I thought they could at least be partly related to the stress of the move.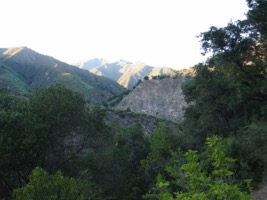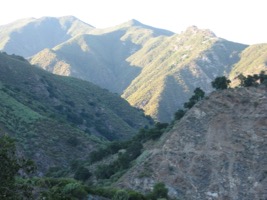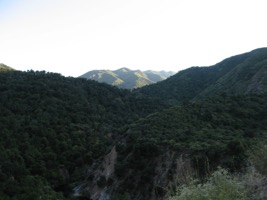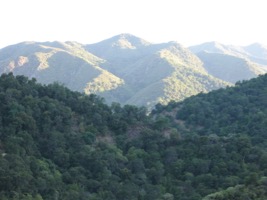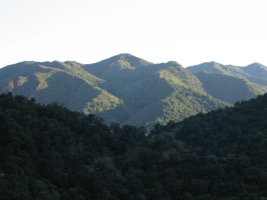 Pics of the Santa Lucia Mountains along Indians Road in the Ventana Wilderness, July 2, 2006.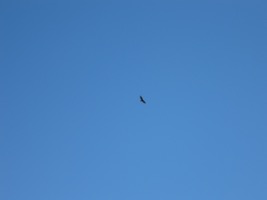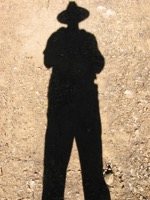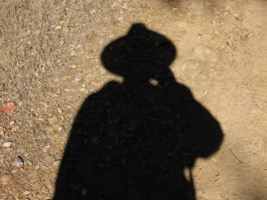 Turkey vulture flying high above. Two pics of my silhouette on Indians Road in the Ventana Wilderness, July 2, 2006.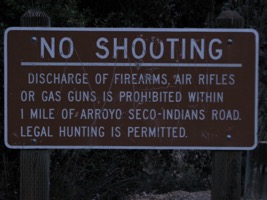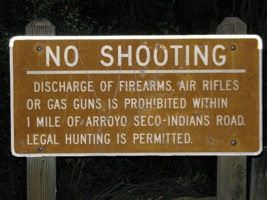 Someone erased the top of the "o" to change "NO SHOOTING" to "NO SHOUTING." This prank was consistent with the intelligent, light-hearted, nature-loving people who frequented this trail and gorge. The rest of the sign reads: "Discharge of firearms, air rifles, or gas guns is prohibited within 1 mile of Arroyo Seco-Indians Road." 12/26/2007.

Just 10 minutes or so into the hike, a view of the Arroyo Seco River from the top of the gorge. If you look at the expanded view, you can see a trail heading down to the water. I remember some German groups camping down there during the summer and having a great time. The place had a fantastic vibe, what with no cellular service and a beautiful environment. 4/5/2008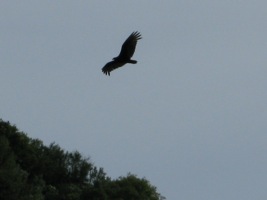 Lots of turkey vultures around here. In dozens of hours of watching them soar, I don't think one has ever come down for a meal. 4/5/2008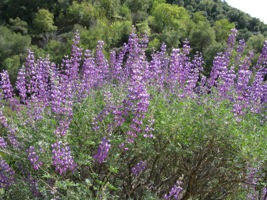 Silver lupine (Lupinus albifrons) (pdf). 4/5/2008
Notes
https://xasauantoday.com/2012/01/15/cycling-arroyo-secoindians-road/
Criminal Aerosol Spray Operations - AKA "Chemtrails"
Electrical Sensitivity, Human Health, And Environmental Illness
Electrical Sensitivity - Personal Symptoms And Reflections
Healthful Diet And Lifestyle, Environmental Toxins, And Multiple Chemical Sensitivities
Heart Chakra Opening - Signs And Symptoms
Kundalini Awakening - Spiritual Signs And Symptoms
Kundalini Awakening - Spiritual Signs And Symptoms - Additional Posts
Kundalini Awakening - Spiritual Signs And Symptoms - EMF Complications - More
Kundalini, Orgasm, Masturbation And The Spiritual Function Of Sexual Fluids
Sexual Deviancy And Its Relation To Fear, Control, Power, Vitality, Innocence, Youth, and Death
This page was first uploaded on 4-13-2014, last modified on 6-25-2017.
All contents and design by Kundalini & Cell Towers © 2014-2017