Sespe Wilderness Photos - Pine Mountain Ridge Road - Rose Valley Road - Rose Valley Falls
Comment 2015.6.18: From 2008-2012 I lived in Ojai, California near the Gridley Trail. The EMF levels along Gridley were never good, and grew markedly worse with the installation of a major antenna farm above Horn Canyon along the Nordhoff Ridge Road just a couple of miles from the steeply ascending Gridley switchbacks. Then it was plain brutal. I'd come home and have difficulty sleeping, burning feet and hands, the works. I'd been exploring areas for hiking north in the Matilija Wilderness and Sespe Wilderness areas off the Maricopa Highway (Hwy. 33). At first I was very hopeful about the remote Pine Mountain Ridge Road that ascends about 2000 feet from it's intersection with the crest of the Maricopa Highway at 5160 feet. This would have been perfect: park my car and then spend the next 2-3 hours walking a long, gradual ascent to the end of the road where the Reyes Peak Trailhead is at over 7000 feet. If I recall correctly, it was about a 12 mile roundtrip. In a benign environment this would offer a major flushing of the system: Lots of aerobic benefit, fresh air, and mental release. It was great for me for a while, I don't know, maybe 10 hikes, until I noticed I was reacting to...something. I began to scan the horizon and found some towers far away to the west of my location. They may have been the massive transmitter installation overlooking Santa Barbara from the high point of the Santa Ynez Mountains. At over 5000 feet, they were at the right elevation from my vantage point. Apart from seeing the towers at some distance, what helped me identify them as the source of pain in my head and pressure and weakness throughout my body was that it was always at the same point, an hour or so into the hike, and about 1000 feet above the starting point, when these towers first came into view, that these debilitating symptoms appeared. It was a fairly sheltered spot with no direct exposure from anything but whatever lay west-southwest. Nothing from Ventura or Point Magu was hitting me. Even when lost in reverie, and not expecting any electrical sensitivity symptoms, I'd be pulled out of my day dreams to attend to this annoying exposure at about the same exact spot, and which would persist as I went higher up the mountain from that point on. I was quite disappointed to find that this area, despite being more isolated, was no better than the Gridley Trail to me. I developed the same discomfort, irritation, and sleep difficulties even though I had journeyed an hour away from Ojai, and was not close to any human habitation. It was at this point that I started walking a few miles along Rose Valley Road, about 30 minutes back toward Ojai. This was also in the Sespe Wilderness, but it was a flat, boring stretch of asphalt that barely enabled me to raise my pulse. The main purpose of the walk was to relax my subtle energy system by getting away from land-based cellular sources for a few hours. This worked out well enough until 2010 or so when a large transmitter facility went onto the Nordhoff Ridge Road, giving Rose Valley, which had been an EMF dead zone, cellular service, and rendering both sides of the Topatopa Mountains (Rose Valley and Ojai Valley) no-go zones for hiking. I stopped hiking at this point, apart from my occasional weekend trips to the less populated northern slopes of the San Gabriel Mountains two hours away.
The following are pictures taken from the Pine Mountain Ridge Road, and Rose Valley Road, both in the Sespe Wilderness off of the Maricopa Highway, about 30 minutes and 60 minutes, respectively, north of Ojai.
Photos/Pictures/Photographs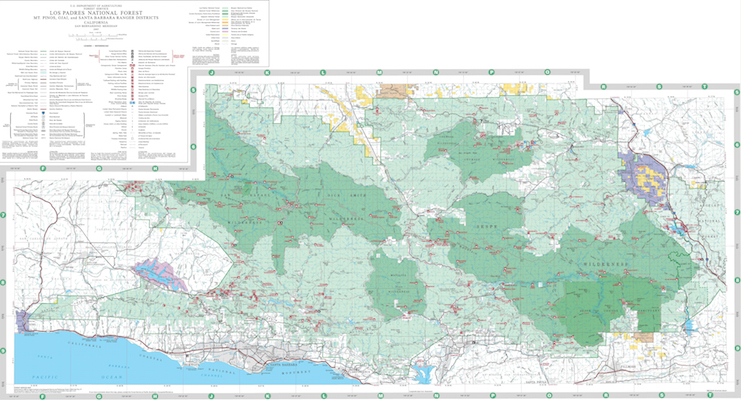 Los Padres National Forest Map - Mt. Pinos, Santa Barbara, and Ojai Ranger Districts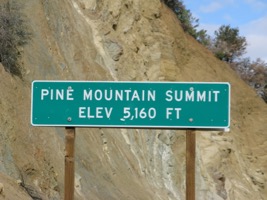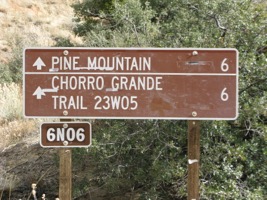 Signs found at intersection of Highway 33 and Pine Mountain Ridge Road: Pine Mountain Summit Elevation 5160 feet; and Pine Mountain 6 Miles, Chorro Grande Trail 23W05 6 Miles / 6N06. When Ojai was hot and stifling, this hike, especially at its upper elevations (that took two hours to get to on foot) above 7000 feet, was cool and breezy. 12/6/2008.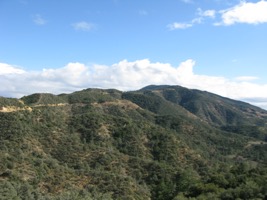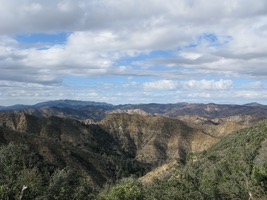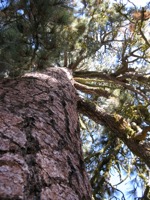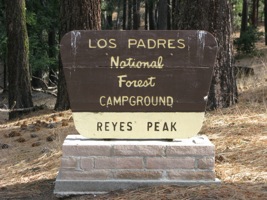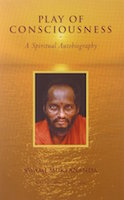 Pine Mountain Ridge Road as seen near intersection with Maricopa Highway. From higher up the road, viewing west. Tall pine tree at one of the campgrounds. Wood sign atop brick foundation: Los Padres National Forest Campground: Reyes Peak. I believe the Reyes Peak campground was higher up the mountain than the Pine Mountain campground, pictured below. 12/07/2008.
There is a scene in Swami Muktananda's "Play of Consciousness: A Spiritual Autobiography," where he achieves enlightenment or some other powerful insight sitting under a large tree. I think it was a mango tree. In any event, he then stands up and embraces the tree. It's hard to actually embrace a large tree -- given their breadth and gnarled roots -- but I do like to place my hand on their rough bark and feel them as I obtain some respite from the sun.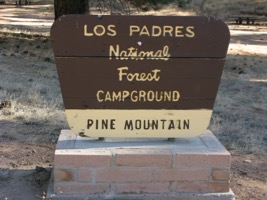 Los Padres National Forest Campground - Reyes Peak - wooden sign. About 7000 feet in elevation. If it weren't for the chemtrails overhead and the ground-based EMF exposures, this would be paradise. It might be over 100º F in Ojai or Bakersfield, but here the cool breeze and shaded pine groves made for paradisical conditions. 12/07/2008.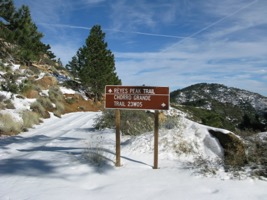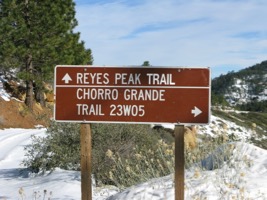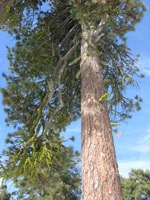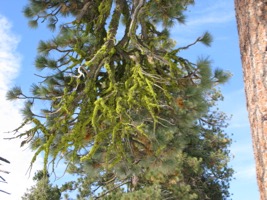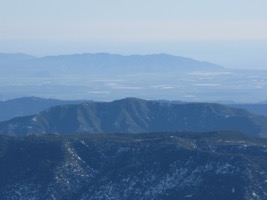 New snow without footprints or tire tracks. I was the first one up here this morning, even with the 2-3 hour walk up Pine Mountain Road. A couple shots of the sign for Reyes Peak Trail / Chorro Grande Trail 23W05. Notice the obvious aerosol spraying above the first picture. I don't think I was aware of this activity at the time. It's amazing how unconscious we can be until something is made known to us. A nice shot of a pine tree with moss (or is that lichen?). The last pic is looking toward Point Magoo and the Santa Monica Mountains in the distance. If you look closely you will see the observation tower at the summit of Nordhoff Peak at the center of the last photo.
12/21/2008.
Criminal Aerosol Spray Operations - AKA "Chemtrails"
Electrical Sensitivity, Human Health, And Environmental Illness
Electrical Sensitivity - Personal Symptoms And Reflections
Healthful Diet And Lifestyle, Environmental Toxins, And Multiple Chemical Sensitivities
Heart Chakra Opening - Signs And Symptoms
Kundalini Awakening - Spiritual Signs And Symptoms
Kundalini Awakening - Spiritual Signs And Symptoms - Additional Posts
Kundalini Awakening - Spiritual Signs And Symptoms - EMF Complications - More
Kundalini, Orgasm, Masturbation And The Spiritual Function Of Sexual Fluids
Sexual Deviancy And Its Relation To Fear, Control, Power, Vitality, Innocence, Youth, and Death
This page was first uploaded on 6-18-2015, last modified on 6-25-2017.
All contents and design by Kundalini & Cell Towers © 2015-2017