Spitler Peak Trail Photos - San Jacinto Wilderness - Pacific Crest Trail
Pictures taken June 2012 onward after I moved to this area.
Photos/Pictures/Photographs - June 29, 2012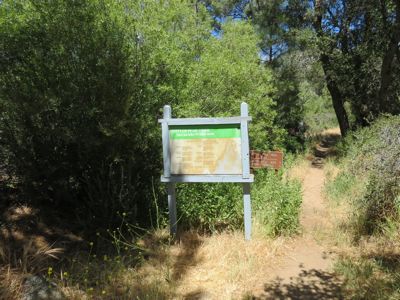 2012-06-29: Spitler Peak Trailhead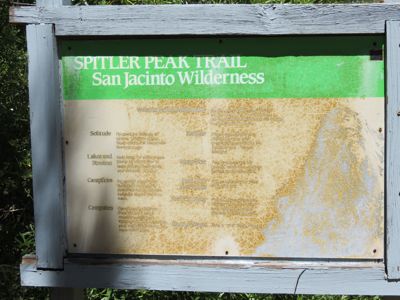 2012-06-29: Sign post, Spitler Peak Trail / San Jacinto Wilderness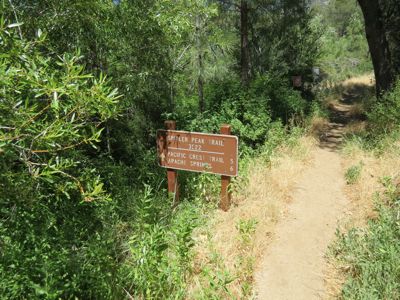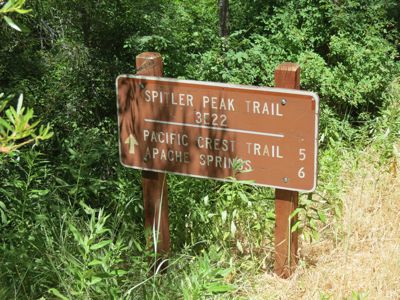 2012-06-29: Spitler Peak Trail 3E22, Pacific Crest Trail 5 Miles, Apache Springs 6 Miles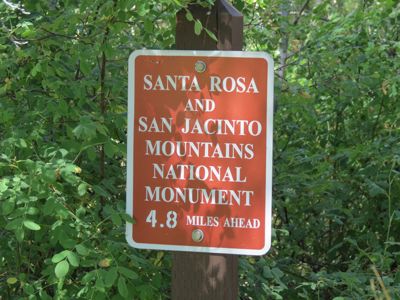 2012-06-29: Sign post, Santa Rosa and San Jacinto National Monument 4.8 Miles Ahead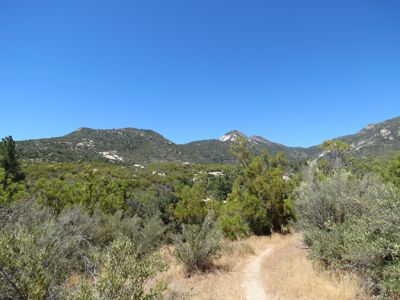 2012-06-29: Near the beginning of the 5 mile hike to the ridgeline overlooking Coachella Valley at 7200 feet.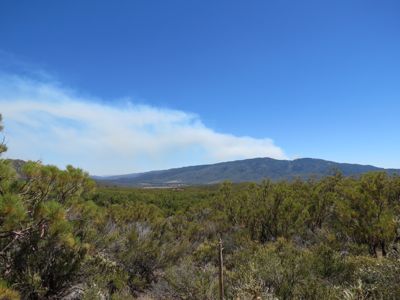 2012-06-29: Smoke over Little Thomas Mountain, five miles southwest of Spitler Peak.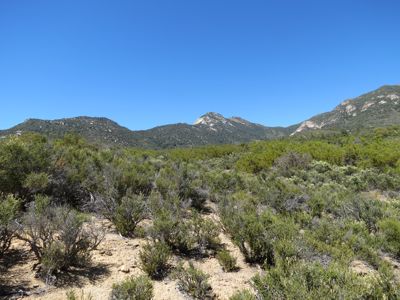 2012-06-29: Spitler Peak Trail. Is that Tahquitz Peak in the distance?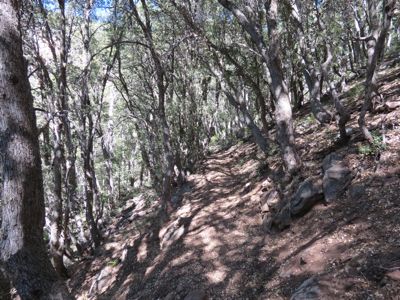 2012-06-29: Finally, some shade, 75 minutes in.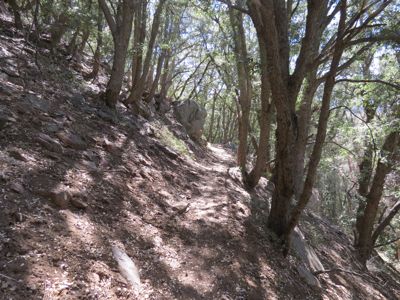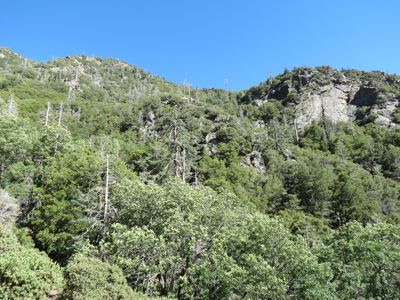 2012-06-29: Spitler Peak Trail, agave with yellow bloom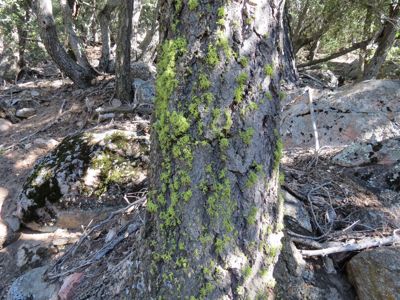 2012-06-29: Moss on pine.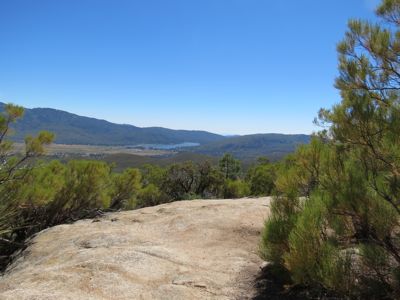 2012-06-29: View of Lake Hemet from nice rock outcrop.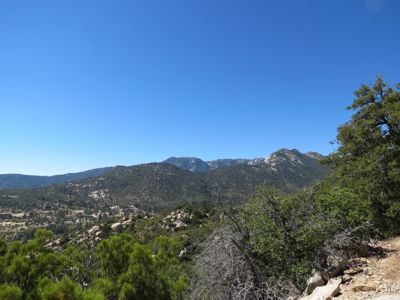 2012-06-29: View of San Jacinto Mountain, 60-90 minutes in, depending on the heat :)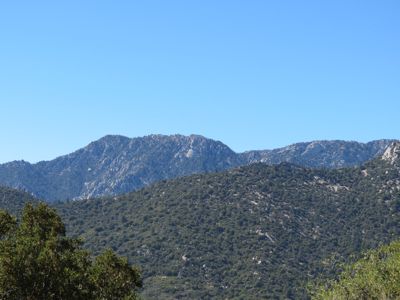 2012-06-29: Nice view of San Jacinto Mountain from along the trail.
Comment 2012-10-21
I chose this area of the San Jacinto Wilderness trail network due to its lower EMF exposure relative to hikes out of Garner Valley and Idyllwild just 5 miles south and north, respectively. The steep ascents of the Idyllwild trails are spectacular, and are several degrees cooler in temperature than the Spitler Peak Trail, and would have been my first choice despite the longer drive (coming from Palm Desert). But as Idyllwild is a heavily-trafficked tourist town, and given society's obsession with wireless connectivity, it came as a sad but not unexpected disappointment to find the whole valley at the foot of San Jacinto peak uninhabitable to me. One day I parked at the Devil's Slide Trail head and was immediately beset with pain and pressure throughout my head. I began to hike anyway, as it was so beautiful among the pines and brisk air, but I became nauseous and my whole body felt weak. So I drove back toward Lake Hemet and the Spitler Peak Trail head. The Spitler Peak Trail is much less picturesque. Apple Canyon Road has a high ridge separating it from Idyllwild. It's several hundred feet lower in elevation, and is often in the 80ºs in the summer months. No one hikes the trail at this time of the year. I find the heat tiresome; but after sweating it out for a few hours, when you reach its intersection at ridgeline with the Pacific Crest Trail 2200' above at 7200', it is a refreshing 5º-10º cooler. I bring six 40 oz flasks of purified water to drink and douse myself with along the way. There is an oak tree 20 minutes in, and a pine tree at 45 minutes, both of which I use for shaded breaks. After about 75 minutes of hiking there is much more tree cover. But until that point there is a whole lot of direct sun exposure among the low shrubs and ribbonwood trees. The aerobic benefit of hiking Idyllwild is much greater as the ascent is so steep (as opposed to the meandering first hour at Spitler Peak). As well, hiking in cooler temperatures is much more pleasant because you don't have to stop due to the body's overheating all the time. I would have looked forward to contact with the outdoors enthusiasts who frequent the Idyllwild area, too. Spitler Peak has almost no hikers during the summer months. Most of the time I have the entire 10 mile roundtrip stretch of trail to myself.
There continues to be a lot of chemtrailing. Just two days ago, as the sun was setting behind the San Jacinto Mountains (from the vantage point of Coachella Valley), a new series of lines had been etched across the sky, with a few of them refracting a sickly rainbow hue. This is one of the telltale signs of heavy metal contamination, and is reminiscent of the famous Denver International Airport Mural. The so-called Illuminati, or "Enlightened Ones" (enlightened by what, I ask?) telegraph their plans for those who can see. I see more and more bloating, puffiness, pastiness, and general illness around me. But few identify electromagnetic pollution, genetically modified organisms, or chemtrails as contributing factors to this rampant inflammation and disease.
Just a few weeks ago yet another celltower was added to Highway 74 (that connects Coachella Valley to Idyllwild), within the Santa Rosa Indian Reservation (pdf), maybe 100 yards from the highway. It is quite strong. And the EMF levels of both my current residence and this distant Spitler Peak hike have become disorienting and troubling to me. I miss the hiking near Devils Punchbowl in Littlerock (California), which is much better EMF-wise for me. If I get the right job offer up there, I'll move in a heartbeat. Spitler Peak was never an excellent hike electromagnetically. It's just a whole lot better than Idyllwild, which isn't saying much. Spitler Peak is within a couple of miles of a tower at the Hurkey Creek Camp Ground (at the intersection of Highway 74 and Apple Canyon Road), and in direct line of sight of stronger towers overlooking Garner Valley, Idyllwild, and Perris. The same feelings I had in Idyllwild are present there along Apple Canyon Road, just not as pronounced. When I lived in Ojai I used to hike the Gridley Trail. It, too, was far from perfect. But after more towers were installed, and/or my becoming sensitized to the ambient EMF of the area, within a year of my relocating to that area, I could no longer hike that trail. Even if I forced myself through the headaches, nausea, and incredible muscle weakness, just for the sake of inflating my bodymind with some basic aerobic activity, my nervous system would be so hyperstimulated that I would not be able to sleep afterwards, in addition to experiencing burning pain in my feet and a sense of rawness throughout my nervous system. My foot pain would only leave after a few hours of sleep; and I could only sleep if I overate and/or masturbated, which was counterproductive to the intention of boosting my sense of vitality through hiking. I was in a stalemate, with death having the upperhand.
Notes
Need to add maps and other info from National Forest Service site.
Electrical Sensitivity, Human Health, And Environmental Illness
Healthful Diet And Lifestyle, Environmental Toxins, And Multiple Chemical Sensitivities
Heart Chakra Opening - Signs And Symptoms
Kundalini Awakening - Spiritual Signs And Symptoms
Kundalini, Orgasm, Masturbation And The Spiritual Function Of Sexual Fluids
This page was first uploaded on 10-21-2012, last modified on 10-21-2012.
All contents and design by Kundalini & Cell Towers © 2012