Lake Cahuilla County Park - Hiking - La Quinta, California - Nearby Sources Of EMF Pollution - Imperial Irrigation District - Boo Hoff, Morrow, And Coral Mountain Trails - November 8, 2012
Lake Cahuilla (pdf) (brochure) is operated by Riverside County Parks. The park attendant at Lake Cahuilla can send you the following additional documents that don't appear to be available from the site: a Boo Hoff, Morrow, and Coral Mountain Trails map (doc format) and a Morrow Trail Map (satellite jpg with text overlay).
I went looking for a place to go hiking, or at least a short walk, here in Coachella Valley, especially now that the temperatures are in the 60ºs-70ºs as opposed to the 90ºs-100ºs. It seems that just about every "natural" location is saturated with manmade electromagnetic radiation. People gotta have their internet and realtime stock quotes even in the wilderness. The La Quinta Cove and Lake Cahuilla areas make my head feel like it's going to burst. There is a lot of pressure from the excess electrical stimulation from nearby transmitters. I don't need to know where the transmitters are to sense a problem. I scoured the Lake Cahuilla camp site and the perimeter of the small like: I could not locate one fake palm tree or whip antenna. But upon leaving, a mile and a half away along Avenue 58, I came across the Imperial Irrigation District (jpg), with it's two strong cellular towers and accompanying electrical substation. This explains much of my poor reaction to Lake Cahuilla, but I don't think more than haf of it. The question is whether I can manage hiking a mile or two until I can get behind some hills. The problem is that the trail network soon connects to La Quinta Cove where wireless connectivity resumes. I need this cardiovascular release for my physical and subtle fitness. Unfortunately, if I exercise in areas with a strong EMF presence, my feet will burn, my skin will be irritated, and I won't be able to sleep on account of a general overexcitation of my nervous system. So though hiking is generally good for the body and mind, in my case, if the area is not safe, exercise will have an opposite effect.
Photos/Pictures/Photographs - November 8, 2012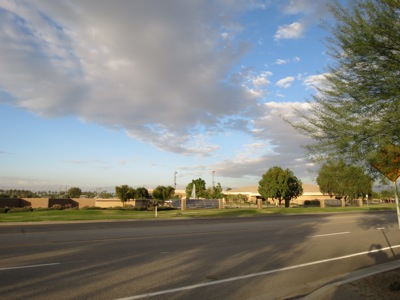 The Imperial Irrigation District located at 81600 58th Avenue La Quinta, CA 92253. It's about 1 1/2 miles from Lake Cahuilla County Park. The EMF is very strong at this location and I would hate to work here. All the trail heads near Lake Cahuilla have strong electromagnetic exposure.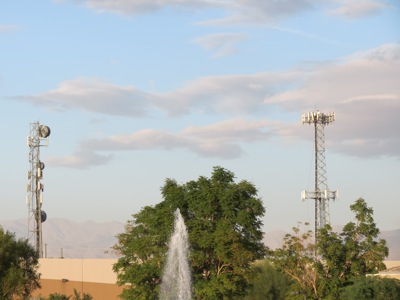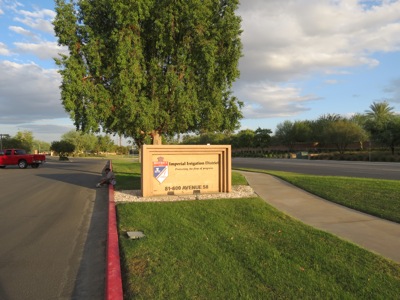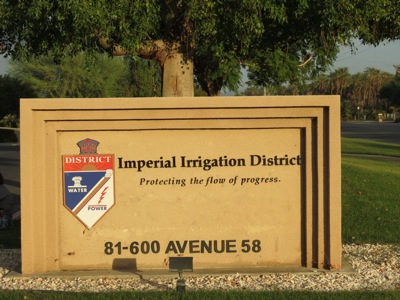 Close up of sign for the Imperial Irrigation District "Protecting the flow of progress" at 81-600 Avenue 58 in La Quinta, CA.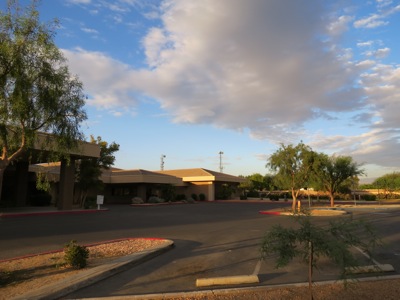 Unpleasantness looms in the distance.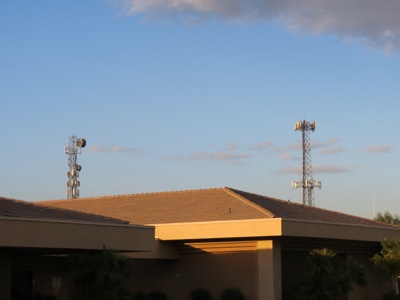 Close-up of the geno- and neuro-toxic transmitters dominating the Irrigation District offices. I wonder what kind of cancer cluster exists in the vicinity -- or what percentage of people here are taking drugs for depression and other mental disorders? There are probably at least 50 people who work here. No doubt that many are ill from their day in and day out exposure.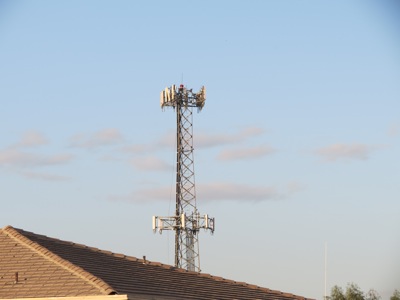 Cellular tower.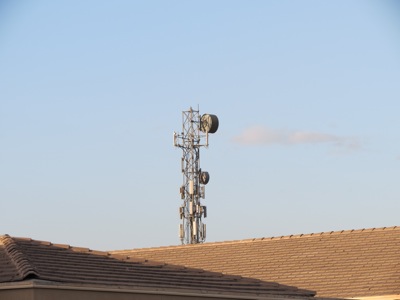 Microwave and cellular tower.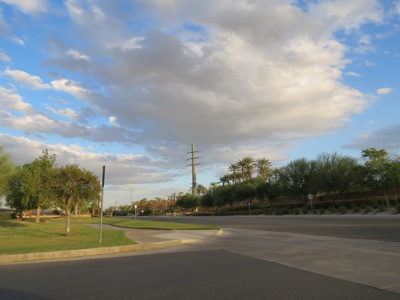 Hey, at least no chemtrails today!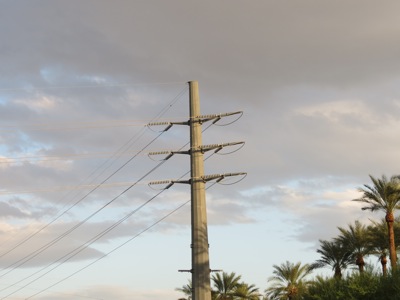 Close up of power pole exiting the Irrigation District electrical substation. Though not nearly as problematic for me as higher frequency cellular towers, I frequently do feel pressure throughout my body when I pass under such a large 60 Hz electricity conveyance. Commonly polluted with "dirty electricity" (due to harmonics and all the appliances connected to the power grid) 60 Hertz utility lines transmit radiation in frequencies up through the megahertz range like one long radio antenna.
Comment November 13, 2012
I did a short hike on November 13, going up the long slow incline from point 1 to point 2 on the jeep trail depicted in one of the two map attachments above. I knew the EMF of the area was not good. But the declining state of my physical health requires that I find something soon to do on a regular basis and not just wait for a single day on the weekends for some aerobic/meditative activity. I was hopeful. I was able to hike the jeep trail's gradual ascent for 30 minutes without any obvious problems. Walking back down I felt a little tense, but there were no major problems. That night walking around the house I felt far more alive and fit than usual after a day's work. There was a spring in my step as I walked about the house; and standing at the kitchen sink grating carrots for a salad was a breeze. My legs didn't hurt, and I was able to sit a bit at my desk without my buttocks and legs aching, a feeling that over the last year or so has forced me to assume a listless, lethargic, horizontal position more and more. But sometimes the negative effect of overexposure to radiofrequency is felt that evening and the next day or two, which was the case in this instance. I slept poorly that night and awoke the following day feeling irritable. I felt "off" and disconnected from work. Actually, to be specfic, I felt disconnected from "me," and hence a general sense of alienation and irritability persisted throughout the day, making me more impatient and less emotionally available than is my norm. My sense is that if I were to be in this state too often, I would find myself unemployed, or certainly unliked in the workplace. So, for the sake of my occupational status, which first and foremost requires a healthy central nervous system, I refrained from exercise the next few days. The result is that I have slept and felt much better (psychologically and emotionally at least), though the diabetes-like scaly redness near my shins and ankles is returning again for want of vascular and lymphatic flushing.
Notes
Electrical Sensitivity, Human Health, And Environmental Illness
Healthful Diet And Lifestyle, Environmental Toxins, And Multiple Chemical Sensitivities
Heart Chakra Opening - Signs And Symptoms
Kundalini Awakening - Spiritual Signs And Symptoms
Kundalini, Orgasm, Masturbation And The Spiritual Function Of Sexual Fluids
This page was first uploaded on 11-13-2012, last modified on 11-13-2012..
All contents and design by Kundalini & Cell Towers © 2012