San Gabriel Mountains National Monument - Pleasant View Ridge Wilderness - Mount Williamson Hikes - Photos - Pictures
Photos/pictures/photographs from the Pleasant View Ridge Wilderness, a subsection of the San Gabriel Mountains National Monument, which in turn is part of the larger Angeles National Forest. In this series of photos I focus on the higher elevation hikes in this area, including hikes to Mount Williamson (8214') that looks down upon Devil's Punchbowl County Park, Big Rock Creek, and the upper reaches of Littlerock Creek. The trail head for Mount Williamson is at Islip Saddle (6648'). When it's 100º to 105º in Antelope Valley down below (elevation 3000'), it's typically a much more pleasant 20º-30º cooler in the higher elevation sections of Highway 2. Highway 2 is closed during the winter. Check CalTrans for road status. I don't recommend driving at night up here as the many rocks that fall onto the road from the steep mountains it is cut into are difficult to see with car headlamps alone.
Photos/Pictures/Photographs - July 30, 2013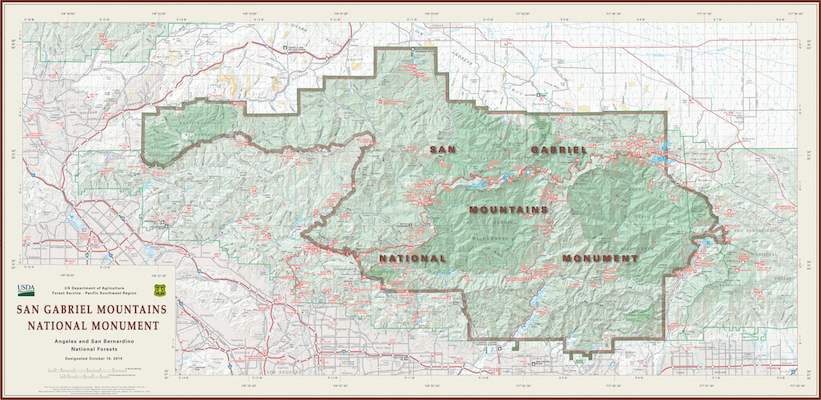 Map of San Gabriel Mountains National Monument established 2014 (pdf). Wikipedia. Visitor Guide 2016.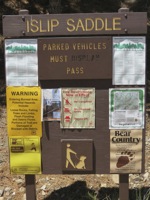 Islip Saddle sign post, with notices "Bear Country," "Parked Vehicles Must Display Pass," "Keep Dogs On Leash," "No Campfires, No Charcoal Grills," etc. 7/29/2013.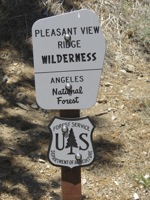 Sign stating, "Pleasant View Ridge Wilderness," "Angeles National Forest," and "U.S. Forest Service - Department of Agriculture." 7/29/2013.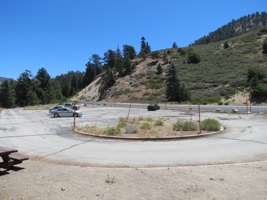 Islip Saddle parking area. 7/29/2013.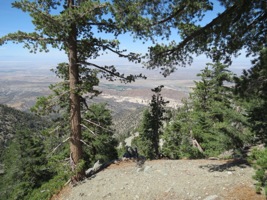 Devil's Punchbowl as viewed near Mount Williamson. This is from a ridge line a little farther north and east of Mount Williamson that is accessed via a steep 400'-500' drop at the western end of Mount Williamson. From this lower ridge you look directly down upon sections of the High Desert Trail. The steepness of the trail to access this particular vantage point is tough on the joints; it's also very exposed to the sun, with a lot of reflected light coming off the decomposed granite and scree. So I don't often get out to this section. 7/29/2013.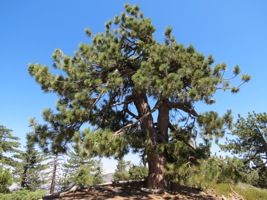 Fine pine tree specimen at the top of Mount Williamson. 7/29/2013.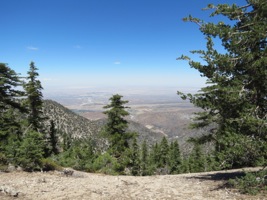 Holcomb Canyon as viewed from Mount Williamson. 7/29/2013.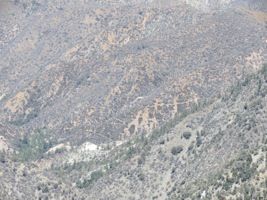 Close-up of trail switchbacks out of Holcomb Canyon going toward Big Rock Creek. as viewed from Mount Williamson some 4000' above. 7/29/2013.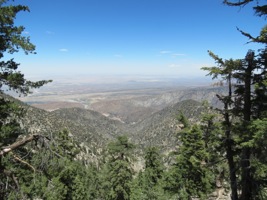 Holcomb Canyon from Mount Williamson. 7/29/2013.

Juniper Hills, sequoia, mistletoe, near Mount Williamson. 7/29/2013.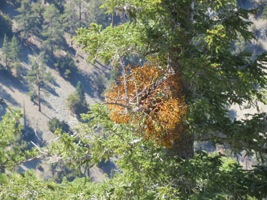 Close up of mistletoe infesting sequoia near Mount Williamson along Pleasant View Ridge. 7/29/2013.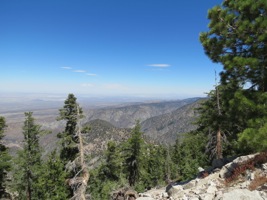 Pine Mountain and Big Rock Creek as viewed from Mount Williamson. 7/29/2013.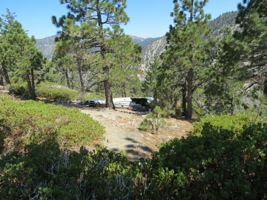 1966 plane wreckage near Mount Williamson. (Another crash nearby occurred 28 years later.) This is the big draw for hikers going beyond the western end of Mount Williamson. It adds another 2-3 hours to the hike. Several people have etched their names into the aluminum body. 7/29/2013.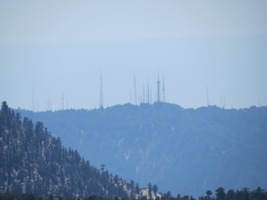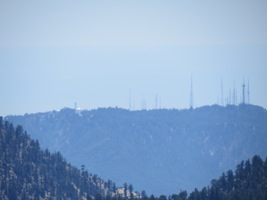 Closeup of radar, radio, and cellular cluster as viewed between Mount Williamson and Waterman Mountain from the vantage point of Mount Williamson. 7/29/2013. I could feel when I was in direct line-of-sight from these things. I enjoyed this hike for the most part because the antenna cluster overlooking Wrightwood to the east was blocked entirely by Mount Baden-Powell and this cluster to the west was blocked most of the time by Waterman or Williamson. Much of the trail leading up from the Islip Saddle was on the east facing slope of Williamson. Are these on Vetto Mountain Road?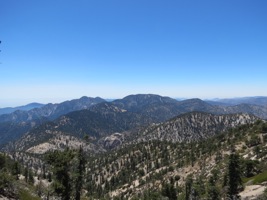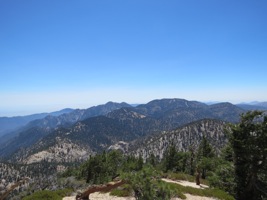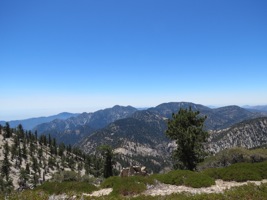 Twin Peaks and Waterman Mountain as viewed from Mount Williamson. 7/29/2013.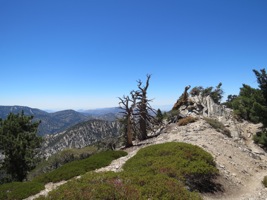 Two dead pine trees atop Mount Williamson. 7/29/2013.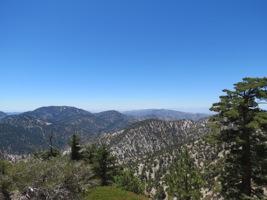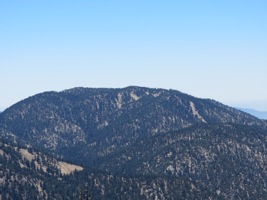 Waterman Mountain as viewed from Mount Williamson. 7/29/2013.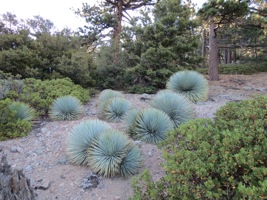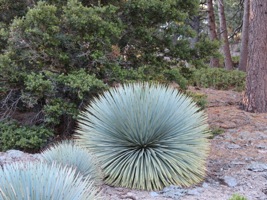 Agave stricta or hedgehog agave on Mount Williamson. 7/29/2013. Wikipedia (pdf).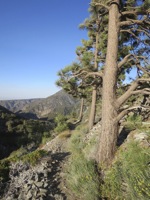 Pine lining path on Mount Williamson, looking east toward Big Rock Creek and Pine Mountain. 7/29/2013.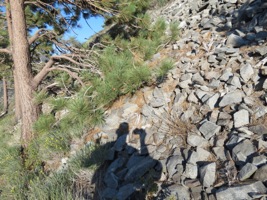 Shadow of me making peace sign against granite and pine on trail down from Mount Williamson summit. What a beautiful day, no chemtrails, and fabulous temps. 7/29/2013.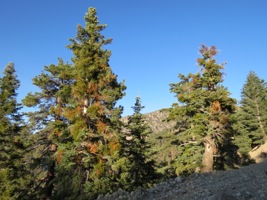 More pine and sequoia succumbing to a particularly virulent and deadly mistletoe infestation. Perhaps 10% of the trees in the San Gabriel Mountains are infected by this parasitic organism that frequently kills its hosts. Goodbye to shade on a hot day. :( 7/29/2013. Wikipedia (pdf). As of 8/2016 I would say that the percentage is about 1/3rd now. With no rain, the pine trees can't make sap, which acts as a deterrant to pests like the pine beetle, as well as parasites. As well, the heavy metal spraying forces plants to block uptake of nutrients from the soil (as they seek to protect themselves from contamination), further weakening their immune systems.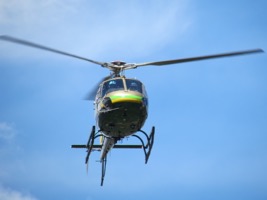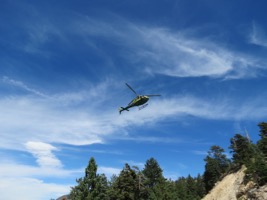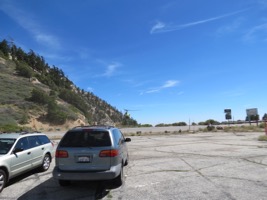 Some shots of a Los Angeles County Sheriff helicopter near Islip Saddle in the San Gabriel Mountains, August 5, 2015. It landed briefly across HWY 2 from the Islip Saddle parking area, sending a lot grass and dirt my way. In the middle pic the helipcopter is framed by metal nano-aerosols injected into the atmosphere -- to what end I do not know conclusively.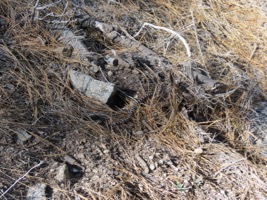 A small specimen of a king snake (less than 2 feet long) crossing the trail near the Mount Williamson trailhead. August 5, 2015.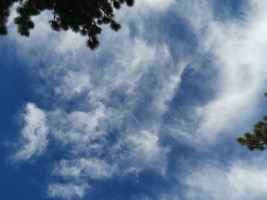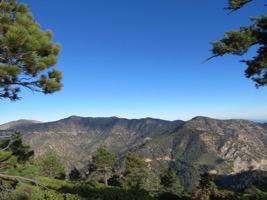 Artificial cloud above my rest stop near the top of Mount Williamson. Near the same time, looking east from Mount Williamson toward Mount Baden-Powell, Throop Peak, Mount Islip, and California Highway 2 cutting a line beneath them. Notice the healthier looking skies before heavy metal particulate matter wafted over there carried by the prevailing winds. 8/5/2015.

Here is a 4 minute video of aerosolized aluminum from atop Mount Willamson in the San Gabriel Mountains of southern California, August 5, 2015.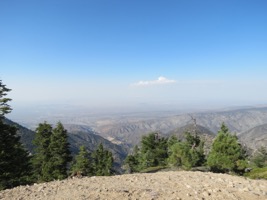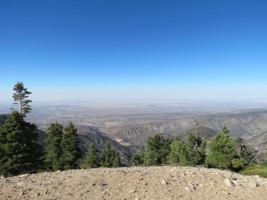 A couple of pics from the eastern summit of Mount Williamson, looking north across Holcomb Canyon, Big Rock Creek, the San Andreas Fault, and the Antelope Valley, about 5000' below. August 4 and 6, 2016.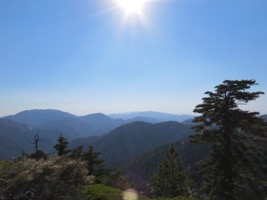 View west from near Mount Williamson's summit. 8/6/2016.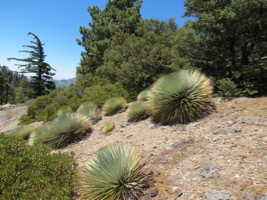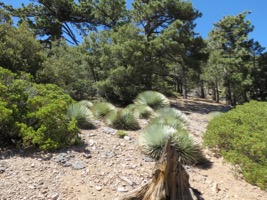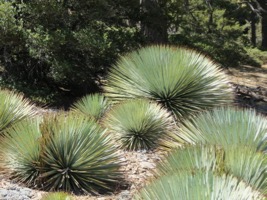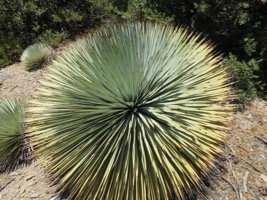 Agave stricta, or hedgehog agave, near beginning of Mount Williamson trail at 6900' or so. The intersection of old growth pine and desert succulents like this is one of the many interesting aspects of this unique climate and locale. The agave specimen on the far right is a spectacular one, some 6'-8' feet across. 8/8/2016.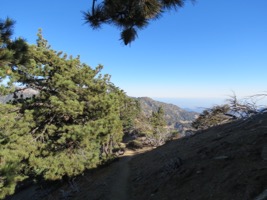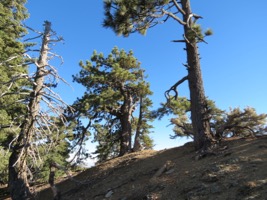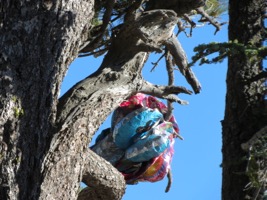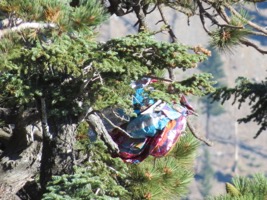 Mylar birthday balloon lodged 7500' up on the southern flank of Mount Williamson. Mylar balloons are a public nuisance and should be banned. :) 8/6/2016.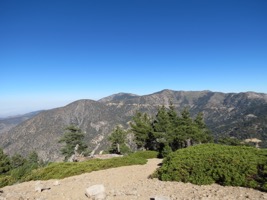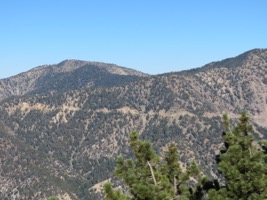 Eastern summit of Mount Williamson, view east of Highway 2 cutting beneath (in the cropped picture at right) Throop Peak (9138') on right, Mount Burnham (8897') in middle, and Mount Baden-Powell (9399') at rear. In the first picture you see Highway 2's highpoint at Dawson Saddle (7901') with Mt. Lewis (8396') just to the left and Mount Hawkins (8850') to the right of Throop Peak. I believe there is a trail from Dawson Saddle going down to Big Rock Creek via Mount Lewis, as well as a trail that connects with the Pacific Crest Trail leading west from Baden-Powell to Mount Hawkins. When it is really hot, I might try accessing Baden Powell from Dawson Saddle, since my normal hike to Mount Williamson starts 1300' lower in elevation and is hence sometimes warmer by 5-6 degrees. I've been told Dawson Saddle to Baden-Powell is an easy 6 mile round trip with only 1500' of elevation gain. I need to find out whether most of the hike is in the EMF shadow cast by Baden-Powell, protecting me as much as possible from the cellular and microwave installations atop the Mountain High ski resort overlooking the town of Wrightwood. 8/8/2016.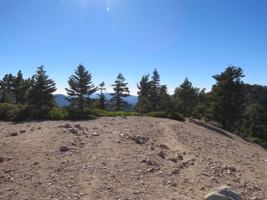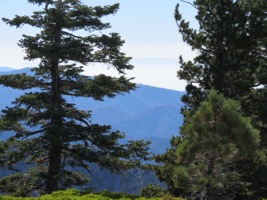 Eastern summit of Mount Williamson view west. The focus is smog, which fascinates me. The thick cloud of white particulate matter clings to the first few thousand feet of air collumn, with a clear delineated top beneath the 6000' mountains in the distance. Where I am at 8200' is largely above this poisonous mass. It's following the gap in the mountain range that is used by Highway 14, a major artery connecting Antelope Valley to Santa Clarita and the San Fernando Valley of Los Angeles. Some of this white matter is the remains of aerosol spraying in the preceding days, but it's uniform, compact nature suggests it is 90% sourced from combustion engines and other terrestrial-based pollution. 8/8/2016.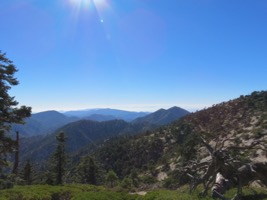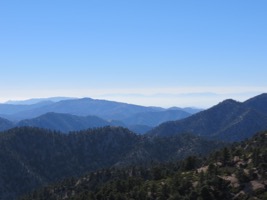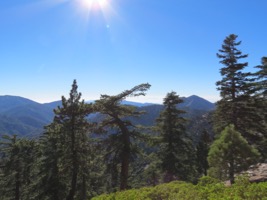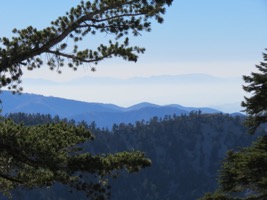 Near Mount Williamson's summit. Looking at the compact layer of smog (that is not fog!) in the distance. 8/8/2016.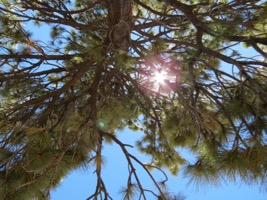 Two minute movie of the wind in the pine atop Mount Williamson. This is where and how I spend 15-30 minutes laying down during each trip coming back down from the summit. 8/8/2016.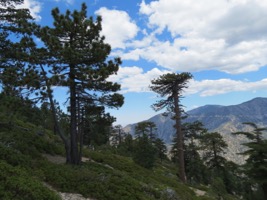 Just below the middle of the photo you can see a glider plane. I hadn't heard any propeller tow-plane, so I was shocked to see the glider swoop in over Islip Saddle a few hundred feet beneath me as I descended from Mount Williamson. It had been almost close enough for me to throw a rock at it. But it took a good 10 seconds for me to take my camera out of its bag, remove the lens cap, and shoot. I might have been at 7800', so the glider must have been at 7600' or so. These crafts are magical. You become a bird in one. Someday I hope to ride in one. They originate out of Llano, just a few miles north of the Big Rock Creek and South Fork Campgrounds, from the Crystalaire Airport in Llano, California, and are operated by the Southern California Soaring Academy (pdf) (YouTube).8/13/2016.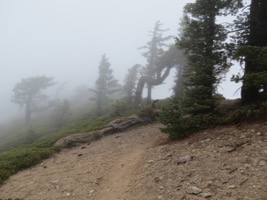 2016.9.13. Extraordinary day on the mountain. Two minute video here. This is just a minute from Mount Williamson's summit. It was amazing to see the windward facing pine trees dripping with so much moisture that the ground under the trees was soaked as if a rain storm had passed. Everything facing the onslaught of rushing clouds became drenched. Tree trunks, branches, and pine needles were all spectacularly wet. It had been many months, possibly a year, since a decent rain had hit the area. Many trees in the drier sections were flashing out or beset by fatal infestations of the parasite, mistletloe. So I would wonder at the resilience of the trees near the ridgeline. Today I discovered their secret. I had been in clouds in the same area, but they were "dry," meaning they had no moisture to share. The difference was that these wet clouds came when it had been some weeks of no heavy metal spraying into the stratosphere. The dry clouds were a result of heavy spraying that kept the moisture unavailable and in suspension. The air on this day was super vital and free of pollution. Simply fantastic!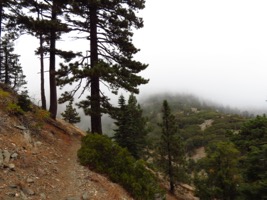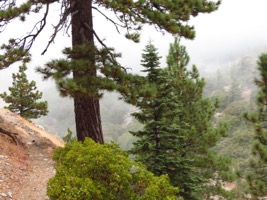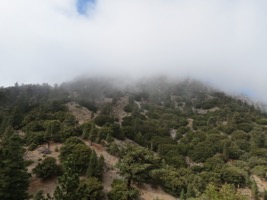 Pine tree along Mount Williamson Trail. Clouds along trail near Islip Saddle. 9/13/2016.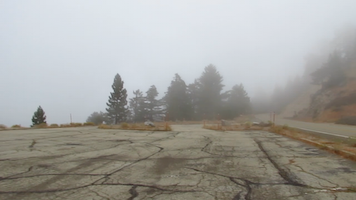 Here is a one minute clip of the clouds shooting across the Islip Saddle parking area and Highway 2. Notice that there are no cars. I had the trail to myself as there was a storm and rain advisory. Hiking is often best when the weather is intense.The wind howled and the clouds sprinted past, but there was no rain in this particular area, though it rained heavily elsewhere. I took the day off work just to be here. I am so happy that I did! 9/13/2016.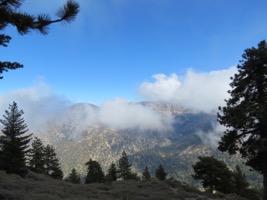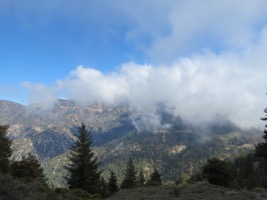 Mount Lewis, Highway 2, Dawson Saddle, and clouds from midpoint on Mount Williamson. 9/13/2016.
Here is a 2 minute video of clouds wafting by between an upper ridge of Mount Williamson, and HWY 2 and Mount Lewis 3-4 miles in the distance. 9/13/2016.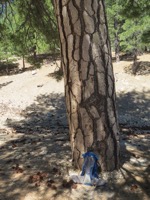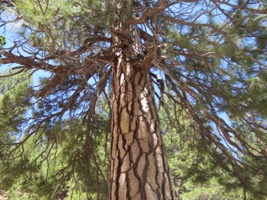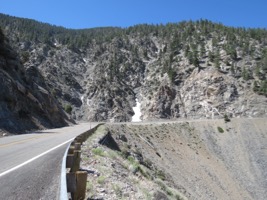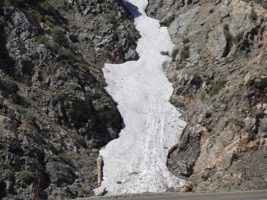 Pics from May 23 and May 28, 2017: 1-2) A large pine tree at the small roadside parking area at the base of Little Jimmy Road on Highway 2. That's my Gregory pack at the base. The tree must be 4-5 feet in diameter. This was the first time I had been up here since last year, as this section of Highway 2 is closed for the winter. Today I referred to this place as "Mecca," as it is quite EMF protected, smells of pine, is cool and quiet, and serves as a spiritual destination for me. If this area is "Mecca," then this majestic pine is the San Gabriel Mountains equivalent of the Kaaba, or sacred stone that the Muslims embrace and kiss as part of their annual spiritual pilgrimmage to Mecca. 3-4) Chemically nucleated snow that's been up here at 7000 feet often in 70º weather for the past six weeks. Water turns to snow usually at 32º, but it can do so in the 50ºs with chemicals added to the water. This also means that the artificial snow requires higher than normal temperatures to melt, typically persistent temperatures in the 60ºs and apparently 70ºs over weeks and months to thaw.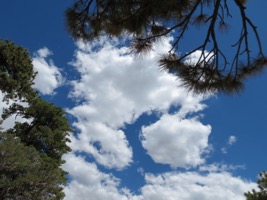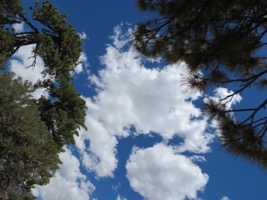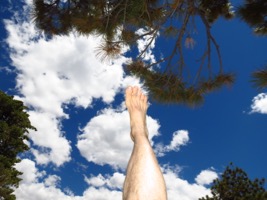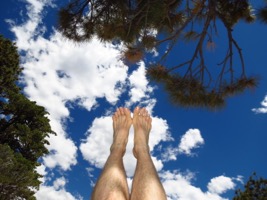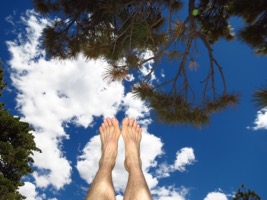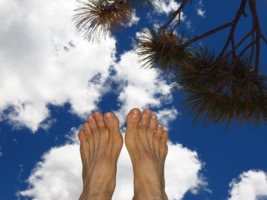 Laying down at the trail fork 3/4ths of the way to the top of Mount Williamson. I always take a break here because it is flat, shaded, and has a nice breeze that comes off the steep southwest facing slope. There was no spraying today, with mostly natural clouds. Some shots of my feet against the pine, clouds, and sky. 2017.8.27.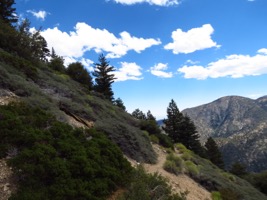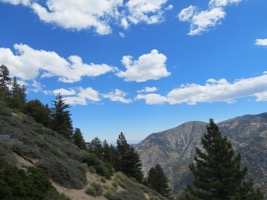 From midpoint on the ascent of Mount Williamson from the Islip Saddle, views to the east. That's Mount Lewis on the left, Throop Peak on the right, and in the distance on the third pic, near the center, is Mount Baden Powell, which at 9399' is about 1200' higher in elevation than Mount Williamson. 2017.8.27.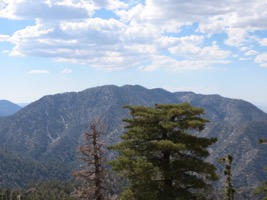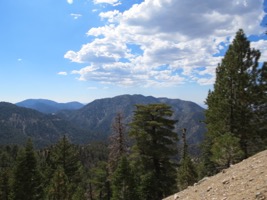 View of Waterman Mountain from Mount Williamson. 2017.8.27.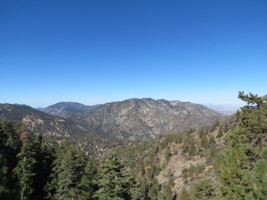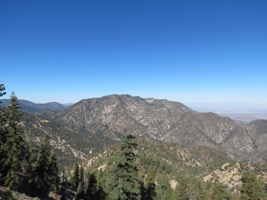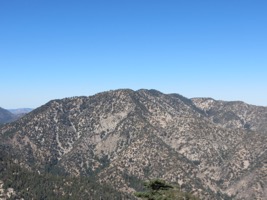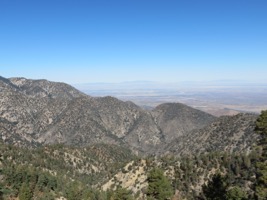 Mount Williamson as viewed from Highway 2 near its highpoint at Dawson Saddle at 7903'. The steep south-facing flank of Mount Williamson (trailing off to the left in pic #4) is the ascent you have to look forward to, beginning at Islip Saddle, elevation 6680'. In pic #5 you see some lesser mountains that divide Holcomb Canyon from Big Rock Creek, accessed from the Devil's Punchbowl Park of Los Angles County. 2017.9.24.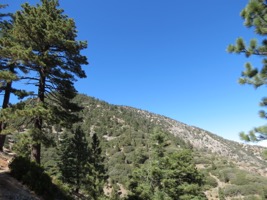 The eastern summit of Mount Williamson in the distance slightly to the right of the first shoulder, as viewed near the trail head at Islip Saddle. 2017.9.24.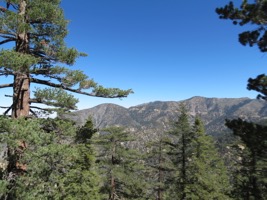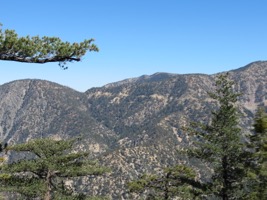 Nice shots of Highway 2, Dawson Saddle (*), Mount Lewis (8396' on left), and Throop Peak on right (9138'), as viewed higher up on the southern flank of Mount Williamson. 2017.9.24.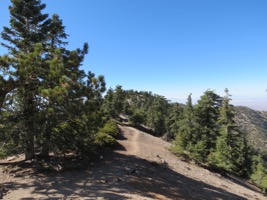 Always nice to stroll on the flat spine of a summit. Along steep slopes like this winds gather nicely to really cool you off after a long hike up. This is up at 8214' on Mount Williamson. 2017.9.24.
Note from 9/24/2017: I ran into a group of hikers from TRVRSApparel.com who completed an exceptional hike from Islip Saddle (6648') to Will Thrall Peak (7845'), summiting and descending from 5 separate peaks each direction, according to one participant a 12-13 mile hike with 5000' of elevation gain. It was definitely more of grunt than I would want in a single day. I am doing 3200' and 11 miles altogether when I summit Mount Williamson twice in a day, taking me 6-7 hours with plenty of breaks. Their path had more steep sections with crumbling footings, which are a disaster for your knees. So a likely "no thanks" from me on a future opportunity. However, looking westward from various sections of Mount Williamson I never knew what exactly I was looking at apart from a few more prominent landmarks like Waterman Mountain. One of the participants pointed out their path to me, west past Mount Williamson, up another small mountain (which might be Pallet Mountain 7760') and then continuing to head west at the point I turn right and to the north to see the plane wreckage another 30 minutes in on a fairly easy, flat path overlooking the Devil's Punchbowl trail. I don't recall seeing another trail bearing west, but I shall go see when I have a chance. Maybe when an athletic friend is visiting me. In any event, I now know the location of the Burkhart Saddle, which their path lead through, and which can be accessed from Devil's Punchbowl down below. From there they head on up to Will Thrall Peak (7845') and then back again to Mount Williamson and down to the parking lot at Islip Saddle. I was impressed with how quickly the TRVRSApparel team walked. They were obviously fit and more than up for the challenge. Reviewing the trip logs at their site (for example Triplet Rocks) (*), I see that several of them are ultramarathoners and are comfortable with 10,000 ft. climbs in a single day (cf. San Antonio Ridge Traverse) (*). I might have been willing to try something like this out in my 20s, but now that I am in my 50s, "nice and slow" works fine for me. Kudos to Ricardo Soria, Jr. for his outstanding write-ups of these intense mountain hikes.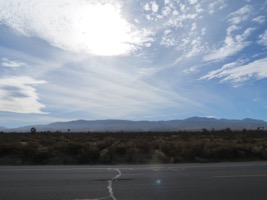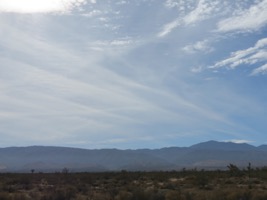 Three pics taken near Llano along the Pearblossom Highway. That is Pine Mountain in the foreground and in the bottom right third of the photos you can see Mount Baden Powell, Mount Islip, and Mount Williamson. There is a deep v-shaped gap between Islip and Williamson, which is where you park when you ascend the mountain. It can be dangerous to stop along HWY 137 like I did as there is but a narrow dirt shoulder. But I was shocked to see the extent of spraying. The people who would presume to biologically experiment upon humanity without its consent were spraying ten years ago, but not one-tenth what is going on daily in the latter half of 2017. I am sickened and disgusted that I would drive 120 miles to "pristine wilderness" and this is what I get. 12/24/2017.
Criminal Aerosol Spray Operations - AKA "Chemtrails"
Electrical Sensitivity, Human Health, And Environmental Illness
Electrical Sensitivity - Personal Symptoms And Reflections
Healthful Diet And Lifestyle, Environmental Toxins, And Multiple Chemical Sensitivities
Heart Chakra Opening - Signs And Symptoms
Kundalini Awakening - Spiritual Signs And Symptoms
Kundalini Awakening - Spiritual Signs And Symptoms - Additional Posts
Kundalini Awakening - Spiritual Signs And Symptoms - EMF Complications - More
Kundalini, Orgasm, Masturbation And The Spiritual Function Of Sexual Fluids
Mother Shakti Goddess Transmission Observations
Sexual Deviancy And Its Relation To Fear, Control, Power, Vitality, Innocence, Youth, and Death
This page was first uploaded on 7-30-2013, last modified on 1-2-2018.
All contents and design by Kundalini & Cell Towers © 2013-2018